I had a fun camping trip last night in celebration of a day off work, and this morning I did some hiking and four-wheeling around the Quehanna Wild Area. I wanted to see some new birds, and I got a few. I got pictures of these two, but they just weren't blog quality, so I stole these from usgs.gov.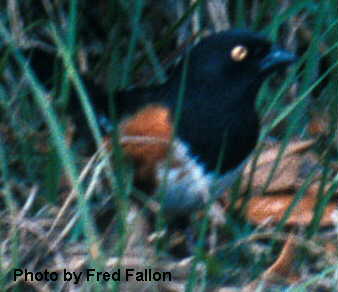 The first is a very common mountain bird, the Eastern Towhee. This bird is very common along the edges of the forest, so if you ride down the dirts roads in the summer you're very likely to see their distinctive black and white tails flying away from your car. I believe that these are sometimes referred to as the Roufus-Sided Towhee because of the patches under their wings. I got close enough to see a pair: the one you see here is a male. The female has a browner head. The song is distinctive as well: click here for a sample (thanks again USGS).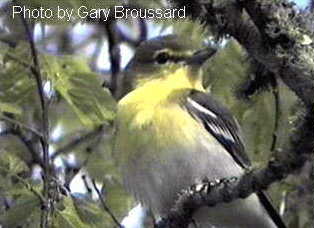 The other new bird I saw was a Yellow Throated Vireo. I'd never seen a vireo before, although I'd heard them many times- probably every trip to the forest. They are noisy singers, but reclusive treetop birds. For some reason, one of these little yellow guys was down in the mountain laurel today long enough to be observed in the binoculars.
I was also able to use my bird song CD and the USGS website to identify two other bird songs, although I couldn't see either of the birds on this trip. The first was the Whippoorwill, an enthusiastic caller that comes out during the night. The other is another reclusive tree top caller with a very distinctive sound, the Veery. Click on the name to hear a sound sample.